13 June 2023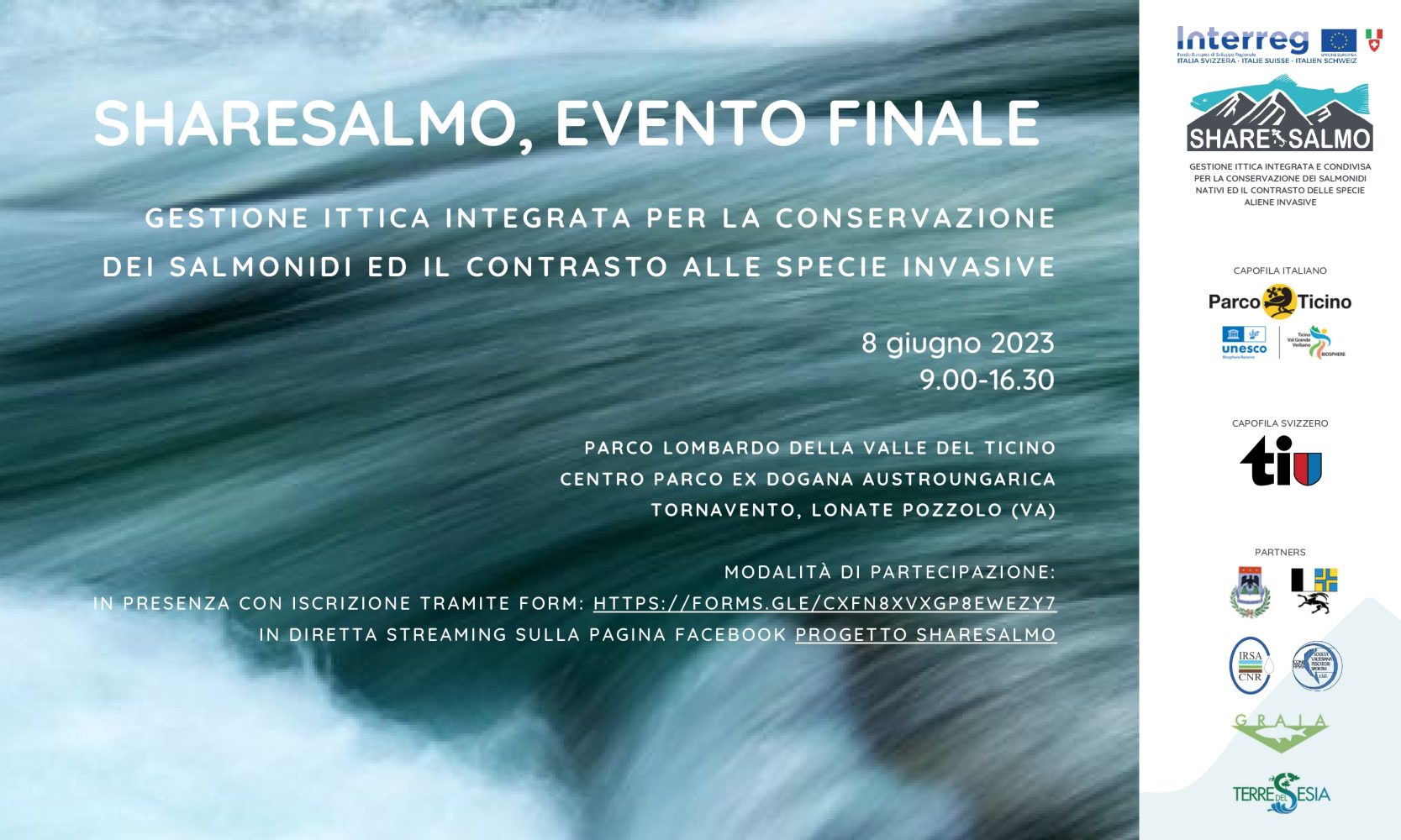 Still available on the project FB page the live streaming of the final event held on Thursday, June 8, 2023 at "Parco Lombardo della Valle del Ticino: Centro parco ex dogana austroungarica", Tornavento, Lonate Pozzolo (VA). The recording will then be posted on the YouTube channel of Parco della Valle del Ticino.
The event presented the main achievements and future perspectives related to the "SHARESALMO IV avviso" project.
Live streaming of the morning session (only in Italian): https://fb.watch/l2XfiHU_g9/
Live streaming of the afternoon session (only in Italian): https://fb.watch/l2XoX0TqTq/
On this occasion, an interesting networking was held with several LIFE Natura projects aimed at the conservation of fish fauna, either implemented or in progress: LIFE Minnow; LIFE GrayMarble; Life STREAMS; Life Nat.Sal.Mo; Life BARBIE; Life LIFEEEL; Life PREDATOR.
Speakers included Monica Di Francesco (Parco Lombardo della Valle del Ticino – Project Manager), Christophe Molina (Ufficio Caccia e Pesca Canton Ticino), Stefano Molinari and Beniamino Barenghi (Project Consultants), Stefano Brignone, Vanessa De Santis (CNR-IRSA), Cesare Mario Puzzi (GRAIA), Mara Papa (GAL Terre Del Sesia Consultant), Cristina Barbieri and Federica Milioni ( Istituto Delta Ecologia Applicata – PM support), Pietro Volta (Secretary Italian-Swiss Fisheries Commission), Lucilla Carnevali (Istituto Superiore per la Protezione e la Ricerca Ambientale), Francesco Nonnis Marzano and Pietro Maria Rontani (University of Parma), Michele Spairani (Flume), Diego Mattioli (Noesis) and Oliviero Mordenti (University of Bologna).
SHARESALMO STAFF would like to thank all in-person and remote participants for attending!
Event details:
Thursday, June 8
9:00 am – 4:30 pm
Centro parco ex dogana austroungarica, Tornavento, Lonate Pozzolo (VA)